Transform your photos, videos, and live streams with Element Light's 10 Inch LED Ring Light. Our Ring Light is a professional lighting tool which helps you capture high quality content, which helps you stand out! It was made by creators for creators!
Want to take those flawless photos like everyone else?
Our 10 Inch LED Ring Light has had thousands of fans capturing their best shots!
TikTok Videos😍
Zoom Calls
Facebook Live
Snapchat
Instagram Stories
Youtube Videos
FaceTime
Skype
Marketing Yourself
Makeup Videos
Photo & Video in low light conditions
Traveling Vlogs
Remote Video Teleconferences
Live Streaming
Makes a great bright light for applying make up
Daylight Mood Light
Kit includes:
1x 10" LED Ring Light by Element Lights
1x Ball Head Hot Shoe Mount (Pivot Your Ring Light With This)
1x Phone Holder For Ring Light
1x Phone Holder For Tripod
1x FREE Bluetooth Remote for Hands Free Shooting
1x Tripod Stand (16.5in to 54in)
Specifications: 
Dimmable range from 1%-100%.

Ring light diameter of 10 inches with an extendable height of 16.5in to 54in.

Long service life of more than 50,000 hours. 

Three different color temperature settings. Total illumination: 3600LM.

High brightness with a low consumption LED light source.
In Depth Specs:
Number of LEDs: 120pcs

Light Power Output: 10W
Input Power: 5V via USB 
Outer Diameter: 10 inches
Inner Diameter: 8.8 inches
CRI (Color Rendering Index): 93+
Lumens: 3600LM | 500 Lux
Color Temperature: 3200K-6000K (+-300)
USB Cord Length: 4.5ft
This ring light kit includes lifetime warranty.
Angle To Your Preference
180° rotating head design allows the ring light to tilt and rotate at various angles. This makes it easy to angle the ring light to your subject. 180° rotate to any angle to free your hands and easily help you capture different levels of brightness and angles!
Variable Brightness Levels and Color Temperatures
3 Color Temperatures (warm, natural, white) and 10 adjustable brightness to choose from! 128 LED lights which offers an adjustable color temperature of 3200K to 5500K. Eliminate shadows and bring more details to your subject!
Adjustable Tripod
Featuring our all new durable and stable aluminum tripod, freely adjust the height of your ring light to your desire. The tripod stand extends from 16" (1.3ft) to 54" (4.5ft). With the 10 inch ring light installed, the maximum height of our 10 inch LED Ring Light is 64" (5.4ft)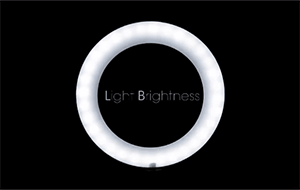 Kit Includes
Customer Love
YOUTUBE REVIEWS/UNBOXING: